Seventh Commission Session Concludes Hybrid Meetings in Sapporo, Japan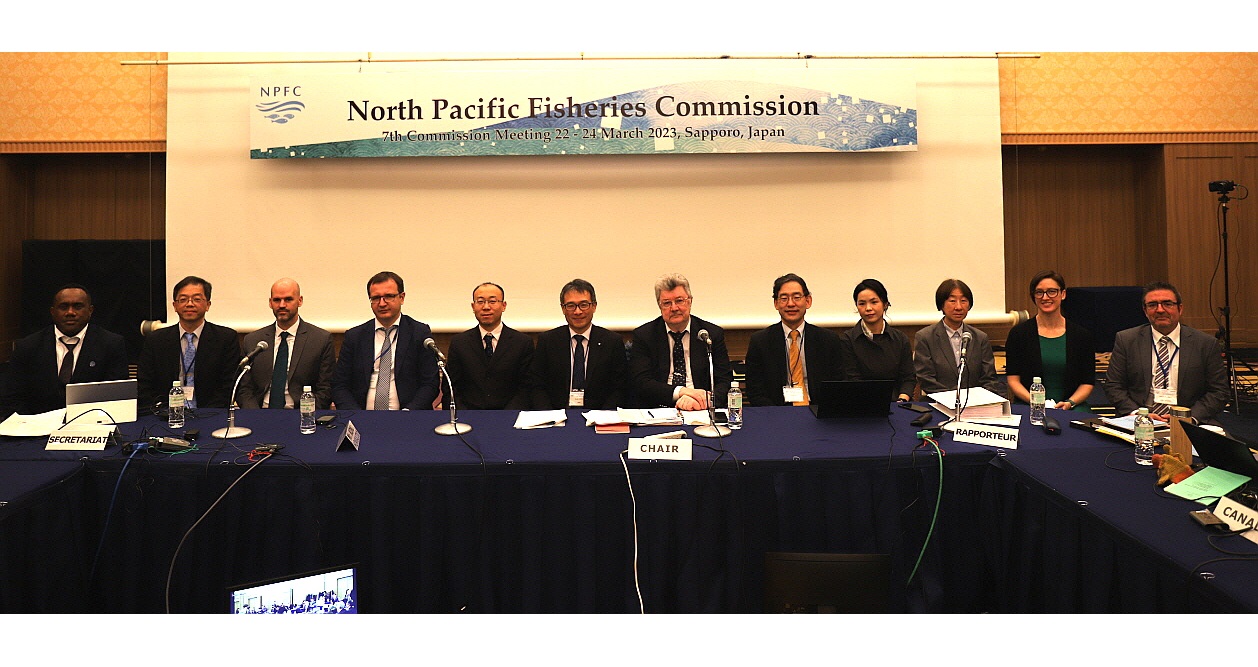 Seventh Commission Session Concludes Hybrid Meetings in Sapporo, Japan
For Immediate Release: 24 March 2023
The 7th Meeting of the North Pacific Fisheries Commission (COM07) took place from 22 to 24 March 2023, in-person and by video conferencing. The Commission meeting was chaired by Dr. Vladimir Belyaev (Russia). It was preceded by the Finance and Administration Committee (FAC05) Meeting on 17 March and the Technical and Compliance Committee (TCC06) Meeting from 18 to 21March. The event was attended by around 120 participants from nine Members and 7 observer groups.A representative of the Hokkaido prefecture government, Mr. Masaki Honda, welcomed delegates to Sapporo.
The Commission Meeting has achieved the following:
Revised the Conservation and Management Measure (CMM) for Pacific saury to align it with the science advice and address its declining status
Agreed to significant advances in managing transshipment through updating the transshipment CMM
Updated CMMs for chub mackerel, Japanese sardine, neon flying squid, Japanese flying squid, bottom fisheries in the north-west and north-east Pacific Ocean, vessel registry, and vessel monitoring system
Adopted new CMMs for sharks and pollution prevention
Adopted a Resolution on climate change
Panama was granted CNCP status until the conclusion of the next Commission meeting. Their status is effective as of 25 March 2023.
Agreed to proposals to deepen cooperation with other regional bodies, such as the Western and Central Pacific Fisheries Commission
Adopted subsidiary body meeting reports with recommendations: Scientific Committee (SC07 16-20 December 2022 and SC06 15-18 December 2021), Finance and Administration Committee (17 March 2023), and Technical and Compliance Committee (18-21 March 2023)
Adopted the 2023 NPFC IUU vessel list by adding four new vessels to the NPFC IUU vessel list.
The Commission also discussed other administrative issues.
The next Commission meeting is tentatively scheduled to take place 15-18 April, 2024 in Tokyo/Yokohama area of Japan.
For more information, please contact the Executive Secretary of NPFC.
Telephone: +81 3 5479 8717
E-mail: Executive.Secretary@NPFC.int
website: www.npfc.int